Paris France News March 22 2012
Springtime in Paris

The calendar says it's Spring,
and Paris follows suit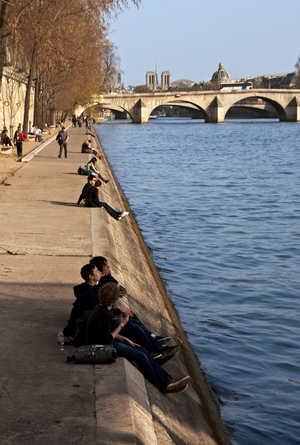 Paris France News, March 22 2012. It's definitely Spring in Paris with trees showing their leaf buds, birdsong in the air, and flowers blooming. And then there's the perfect Paris weather we've heard about in so many songs.
Along the banks of the Seine Parisians of all ages are promenading and basking in the sunlight.
On Spring days like these the lineups at the museums are shorter than they were last week, since everyone wants to spend their days outdoors.
We did visit Musée d'Orsay to see the current exhibit of Degas nudes, and to spend time among some of the most famous Impressionist paintings. (By the way, we discovered that since the Orsay's renovation, photography is no longer allowed in the museum.)
After the Orsay we crossed the Seine on the pedestrian bridge and spent time among the budding trees of the Tuileries Garden.
Paris Planning Quick Links