Paris France News March 18 2012
La Brasserie de
l'Isle Saint-Louis
Family-owned, traditional
and authentic
Paris France News, March 18 2012. It serves traditional brasserie food, and it's a tradition with us.
We went back to one of our favorites for lunch, La Brasserie de l'Isle Saint-Louis, located on, you guessed it, Isle Saint-Louis, just behind Notre Dame Cathedral and across the pedestrian bridge.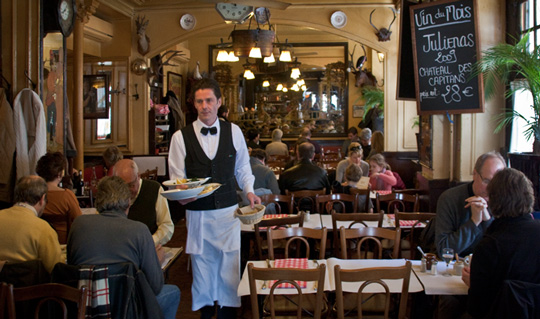 There's always been a restaurant on this site – that is, at least since the 19th century. The restaurant was purchased by the Guépratte family in 1953 and renamed Brasserie de l'Isle Saint-Louis. It's now run by the third generation of the family, grandchildren of the original owners.
This is the place to seek out traditional brasserie classics like herring and boiled potatoes slathered in butter and olive oil, perfect omelettes with house-made frites (which may be the best frites in Paris!), or a huge plate of charcuterie. And when you have a craving for the Alsatian dish of sausages and tangy sauerkraut – this is the place.
It's the best way to fortify yourself before you head to Notre Dame to climb the 387 stairs to the top of the towers!
La Brasserie de l'Isle Saint-Louis
55, quai de Bourbon 75004
Website »
Paris Planning Quick Links