Paris France News March 16 2012
Cité Des Sciences
Et De L'Industrie

The biggest science museum in France
Paris France News, March 16 2012. Today we traveled back to Parc de la Villette in northeastern Paris to visit the other big museum located there. The City of Science.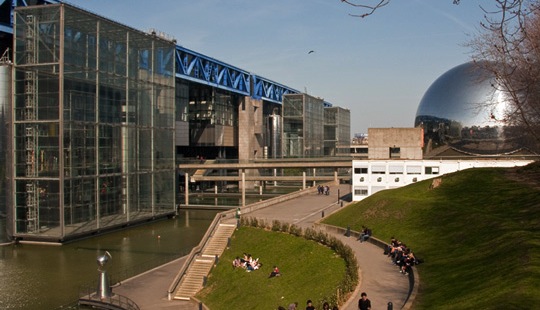 This museum is run by the same people who run Palais de la Decouverte in central Paris, but it's much different, and much bigger. There are huge spaces given over to temporary exhibits such as the current Shadow & Light and The Ocean, The Climate & Us.
But today we visited a cité within a cité, the special space within the museum called Cité des Enfants 5 – 12. It's all hands-on and kids can build a cardboard box from scratch; play with cameras in the TV studio; measure how fast they can run; create their own experiments with water; and much more.
And it was jam-packed with kids! It seemed that whole schools of kids were making field trips to the museum today. As Alexandre reviews it:
"The activities were superb, but there were too many kids, with not enough supervision, so it was was hard to enjoy the displays and experiments."
It's probably best to visit Cité des Enfants in the summer, when school is out and there are not so many large groups visiting the museum.
Paris Planning Quick Links