Paris France News March 13 2012
A Night at the Opera

The Old paris opera, that is –
Palais Garnier
Paris France News, March 13 2012. The famous Beaux-Arts Paris opera house, Palais Garnier, is as spectacular as when it opened on January 5, 1875.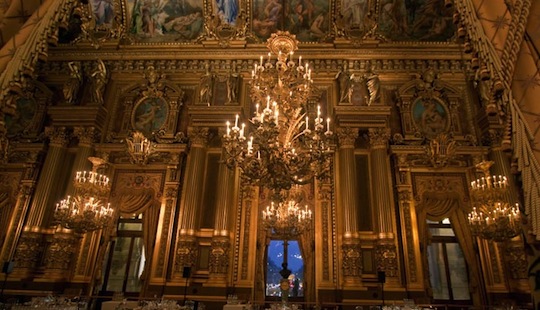 The building itself overlooks and dominates the Place de la Opera in the center of Paris. In recent years the facade has been cleaned, repaired and restored to its shiny, golden glory.
Inside, grand marble staircases take you up the the seating levels, and the marble and gilt columns are a wonder to behold. There's a Grand Salon for dinners and special events decorated with golds, silvers and huge chandeliers.
Nowadays operas are staged at the new Paris opera house, Opera de la Bastille. At Palais Garnier you can attend musicals, light operettas, and, as we did last night, ballet. We saw a work by choreographer Jerome Robbins.
Paris Insiders Guide to Palais Garnier »
Palais Garnier Performance Schedule & Tickets »
Paris Planning Quick Links