Paris France News March 09 2012
Bob Dylan 1961 to 1966
A retrospective at the
Cité de la Musique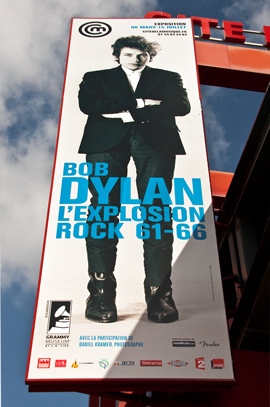 Paris France News, March 09 2012. The Parc de Villette is located in northeast Paris. What was once the location of huge slaughterhouses and the national wholesale meat market of France is today a family-themed park with two large museums, bicycle paths, canal boat rides and a large exhibition space.
La Cité de la Musique is the music museum of Paris where you can see and listen to instruments from 1000 years of music. The museum also hosts kids' programs, concerts and lectures on music.
This month (March 2012) Cité de la Musique has mounted a Bob Dylan retrospective covering the years 1961 to 1966. A lot changed in folk & rock music in that period, and Dylan was a major influence and trendsetter.
In photos, films, concert footage and displays of some of the actual instruments played by musicians of the period, the history of that fascinating half-decade comes back to life.
Highlights include Dylan's high school yearbooks, film of a a live performance of Like a Rolling Stone, and Pete Seeger's banjo.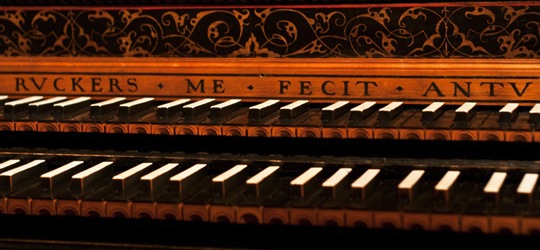 17th-century keyboard.
Just one of over 1000 historic instruments on display at Cité de la Musique.
Paris Planning Quick Links