Paris France News March 08 2012
Le Bistrot de L'Oulette
Something old, something new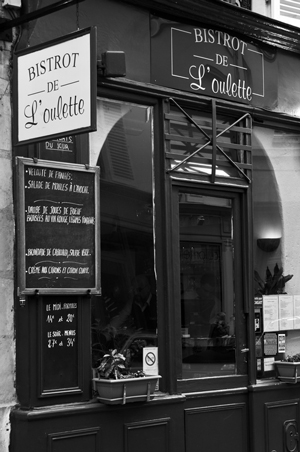 Paris France News, March 08 2012. We decided to go back and eat at our very first restaurant in Paris, those many years ago!
When we first ate at Le Bistrot de L'Oulette that name was the subtitle to the name above the door, Baracane. The story of the restaurant is something like this: Baracane was the first restaurant owned by Marcel and Marie-Noölle Baudis, who later opened the more modern restaurant L'Oulette in Bercy (12th Arrondissement). At that point Baracane became designated as the bistro of the newer restaurant.
We ate at Baracane, which is just steps away from Place des Vosges in the Marais, a few times, but quite a number of years ago. We stopped going because the last time we were there the quality had slipped – perhaps Baracane was being run by a third party. Whatever it was, it kept us from going back.
Then something changed for the better, "L'Oulette" was back on the sign and the name "Baracane" disappeared forever.
When we went to Le Bistrot de L'Oulette last night we were joined by our British friends Tom & Jos who had come over to spend a few days with us. The dinner was a complete success and the old high standards are back in place!
The meal began with a unique and delicious escargot entrée, served with nuts and basilic broth. Les plats included a southwestern-style cassoulet, the crispiest confit de canard we've ever had, an an amazing pintade served in a dark, rich sauce.
Baracane is dead. Long live Le Bistrot de L'Oulette!
38 rue des Tournelles, 75004 Paris
01.42.71.43.33
Paris Planning Quick Links
Want To Learn More?
Don't Miss a Single Paris Travel Tip.
Sign up for Le Petit Journal!
The Newsletter of Paris Insiders Guide
Don't Miss a Single Paris Travel Tip.
Sign up for Le Petit Journal!
The Newsletter Of Paris Insiders Guide