Paris Arrondissements –
The 18th, Montmartre
the village on the hill
Paris Arrondissements. This most bohemian of Paris arrondissements is known for artists, cobblestone streets, nightlife and a big white church.
18th Arrondissement, Montmartre:
The Bohemian Heart of the City
Up on a hill sits the former village of Montmartre, where narrow streets climb and bend their way up to Sacre Coeur, the big white church.
Famous among Paris arrondissements for night life, here you'll also find Moulin Rouge and late-night bars.
Plan to spend at least a part of a day in Montmartre, the highest of Paris arrondissements. Get off the beaten track and explore Montmartre secrets like the Espace Dali, or the site of Picasso's most famous studio, or hone your shooting skills on a walking photography tour.
Arrondissement Quick Links

| | | |
| --- | --- | --- |
| | | |
Best Things to do: Paris Arrondissements – 18th
Dinner and Show at the Moulin Rouge
Enjoy the #1 rated show in Paris with French traditional food and Champagne. The lavish cabaret features a troupe of 100 artists and dancers. Includes hotel pickup from and return.
• Dinner and Show at the Moulin Rouge, with hotel pickup »
• More ways to visit the Moulin Rouge »
Montmartre Visit & Paris City Tour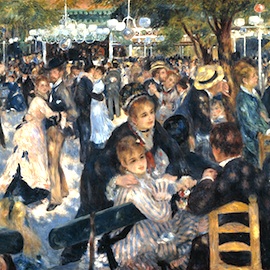 Explore the best of Paris on this 3-hour tour: Palais Garnier, Place Vendome, Notre Dame. Then have free time in Montmartre: Sacre-Coeur, the Moulin de la Galette Windmill and the Place du Tertre. The tour includes hotel transportation.
• Montmartre Visit & Paris City Tour »
Walking Tour of Montmartre & Sacre Coeur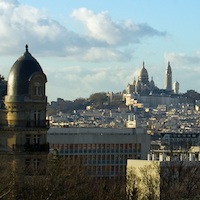 Wander through Montmartre with a guide at your side to explain the historical significance of its windmills, cabarets and monuments. After taking in the vista at Sacre Coeur, you'll walk to the north slope, where Van Gogh lived and painted.
• Walking Tour ofMontmartre & Sacre Coeur »
Photography Stroll Through Montmartre

Explore hidden Montmartre's streets and monuments with your camera and a professional photographer. You'll stop at a bistro in the artists square, Place du Tertre, for a friendly review of your photos.
• Photography Walking Tour of Montmartre »

Montmartre landmarks: a short stroll
A Paris Insiders Guide Promenade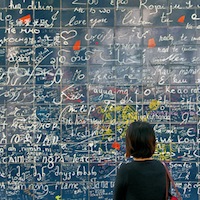 There's quite a lot to see in this historic little quartier on top of the hill, we'll take you on one walking loop. Catch Metro line 12 to Abbesses station. When you get off the train use the elevator instead of the stairs, it's a long way up! You come out on Place des Abbessses with its year-round carousel. Visit Square J. Rictus, a small park on the north side of the place. Rest on a bench and look at the unusual mural tile installation.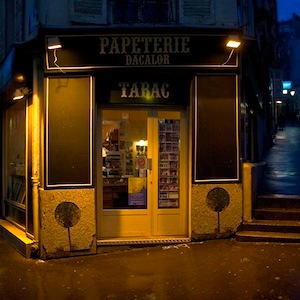 Return to Place des Abbessses, turn uphill and walk to the first passageway on your right, Passage des Abbesses. Climb up the hill to Rue des 3 Frères. Turn left to a small place (on your right). Here, at address at 11 bis ,was the location of the famous art studio, Le Bateau-Lavoir. Though the original building is gone, this is where artists and writers lived, wrote and painted: Picasso, Max Jacob, Henri Matisse, Jean Cocteau.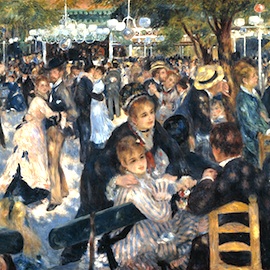 Cross the place to Rue Ravignan and turn left into Rue d'Orchampt. Walk this narrow cobblestone street to its end. You'll be on Rue Lepic, at the windmill of Moulin de la Galette, a mill since the 17th century and a nightclub since the 19th. Frequented by Pissarro, van Gogh, and Renoir, who famously painted the Galette. Continue right on Rue Lepic until you come to Rue Norvins.
This is the heart of old Montmartre village. You'll join throngs of tourists, but it still has charm. Before you explore, you might want to take a side trip down Rue des Saules to visit Le Lapin Agile, a Montmartre cabaret made famous by Picasso's painting of it. Across the street is the Montmartre vineyard, where the only wine made in Paris comes from. Return to Rue Norvins and stroll thorugh the old village.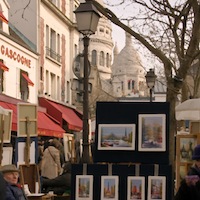 Rue Norvins takes you to Place du Tetre, a lively square where artists paint and ply their works, and tourists mingle and have their portraits painted. You can go further along Rue Norvins to get to Sacre Coeur or exit the place on the south on Rue de Calvaire, where steps take you Rue Gabrielle. Turn left a few steps then head downhill on Rue Drevet, which curves into Rue le Vieuville on your right.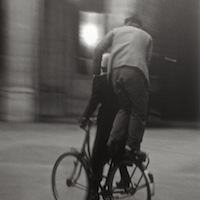 Before you leave Montmartre, stop in at a small photo studio at 8 Rue le Vieuville. There you can browse through the work of local photographer Gerard Laurent. You can buy one of his beautiful prints for as little at 25€, giving you an evocative reminder of this historic Paris neighorhood. Walk the rest of the way along Rue le Vieuville and you'll be back at Place des Abbessses.
View and print Montmartre landmarks: a short stroll on a map.
Top Things to See: Paris Arrondissements – 18th
Espace Dalí
This museum devoted to Salvador Dali, the master of surrealism, is located in the heart of Montmartre. Two floors of his best paintings, sculptures, drawings and cartoons.
11 Rue Poulbot 75018
• Website »
• Free Entrance with the Paris Pass »
Sacre Coeur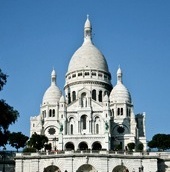 There's no better view of Paris than from atop the steps of Sacre-Coeur. In fact, because it's built on the hill of Montmartre, it's the highest point in Paris (higher than the Eiffel Tower).
If you want to avoid the climb, catch the funicular lift near Rue Tardieu. You can ride with a Metro ticket.
Top Hotels: Paris Arrondissements – 18th
Secret de Paris
"Greeted with a glass of Sangria and nibbles when we arrived"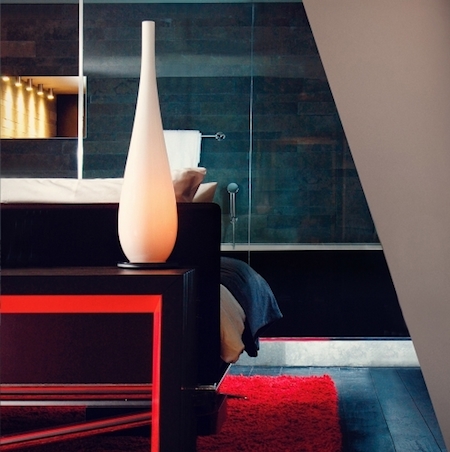 2 Rue de Parme, 75009
This boutique hotel is located near Place de Clichy (and its Metro station), just down from Montmartre. Each rooms is individually decorated with soft lighting. Travelers rave!
• Reviews & Best Rates – Secret de Paris »
Hotel Le Chat Noir
"A wonderful and charming hotel"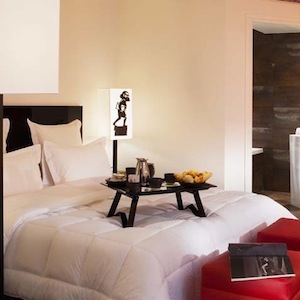 68 Boulevard de Clichy, 75018
Recently renovated to a stylish, modern decor. Located at the foot of Montmartre, Le Chat Noir has air-conditioning and flat screen TVs. Top floor rooms have views of the Eiffel Tower.
• Reviews & Best Rates – Hotel Le Chat Noir »
Villa Royale
"What a nice surprise"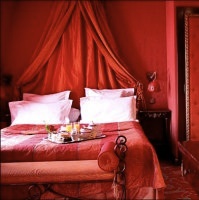 2 Rue Deperre, 75009
This opulent boutique hotel is set at the foot of Montmartre in the center of Pigalle, famous for its nightlife and the Moulin Rouge. Upholstered velvet chairs and jewel-tone rococo style.
• Reviews & Best Rates – Villa Royale »
Ibis Paris Montmartre
"Really good value for money"




5 Rue Caulaincourt 75009
Found at the hill that leads up to Sacre Coeur and just a can-can away from the Moulin Rouge. Nice touches for a budget hotel: air-conditioning, free Wi-Fi.
• Reviews & Best Rates – Ibis Paris Montmartre »
Paris Arrondissements Planning Quick Links
Don't Miss a Single Paris Travel Tip.
Sign up for Le Petit Journal!
The Newsletter of Paris Insiders Guide
Don't Miss a Single Paris Travel Tip.
Sign up for Le Petit Journal!
The Newsletter Of Paris Insiders Guide